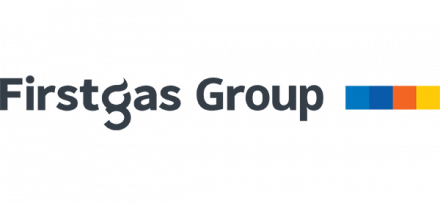 Firstgas is part of Firstgas Group. Our Vision is to lead the delivery of New Zealand's energy in a changing world. Our mission is to safely and reliably deliver energy that's affordable and accessible to Kiwi families and businesses. We're really proud of this and of the important role we play in Kiwis' lives.
Based in New Plymouth, Firstgas Group is an umbrella brand consisting of Rockgas, Firstgas, Flexgas and Gas Services NZ. Firstgas and Rockgas are consumer brands that supply LPG and natural gas to over 165,000 customers through their gas network of over 2,500km of high-pressure transmission pipeline and 4,800km of distribution pipeline in the North Island, 36 local LPG suppliers, and over 180 Refill & Save locations across New Zealand.
Flexgas and Gas Services NZ are energy storage, operations and maintenance brands who make sure gas can be delivered safely and continuously. Flexgas operate the Ahuroa gas storage facility in central Taranaki. Gas Services NZ provides operational and maintenance support to all gas infrastructure owners, including the brands within Firstgas Group.